Hello,
Welcome to the SRL art room, where creative professionals, designers and artists come to blow off some steam after a hard day's work or the much too familiar all-nighter. You'll find stunning works of art that can be used for album covers, including for CDs, Vinyl, MP3, WAV, FLACC and other digital formats for release on music services like iTunes, Apple Music, Google Play Music, Amazon MP3, Spotify, CD Baby and Bandcamp, social media pages, posters, flyers, t-shirts, mugs and other merchandise, promotional websites and anything else that needs a professional design that looks good. All graphic designs are displayed in the form of square album covers but the text can be customized or removed as required, simply tell us when you buy your cover. All covers are EXCLUSIVE - only one copy is ever sold, so once you've bought it you'll be the only one to ever own it. New covers are added daily.
---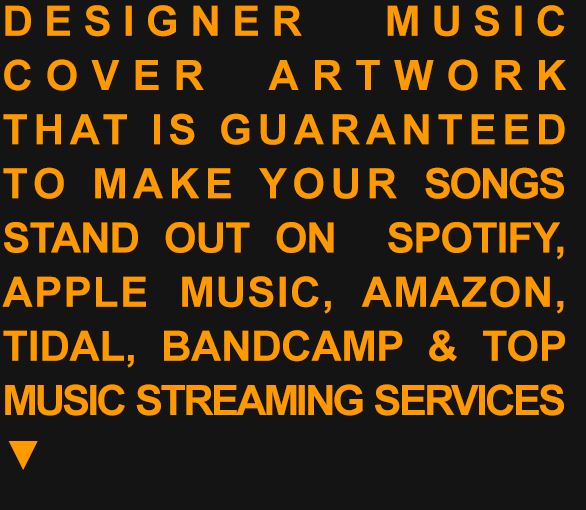 ---
Once you've found your desired cover, make a note of the COVER CODE and proceed to the payment page using the bullet link below. Enter your ARTIST NAME, ALBUM NAME (or other text, if required) and the COVER CODE of your desired cover, make your payment and we'll do the rest. Ready-made covers are delivered by email within 24 - 48 hours.
Cover Specifications:
Size: 2000 by 2000 pixels
Resolution: 300 DPI (minimum)
Formats: You'll receive 1 JPG and 1 PNG
Graphic Artworks: You'll receive 1 customized standard cover artwork with your Artist/Band Name and Project Title as displayed on the store and the corresponding plain background without any text for your CD case back cover or CD/Vinyl sleeve back cover, Disc/Vinyl top label, CD booklet, posters, flyers, merchandise and other promotional material. You can also request the cover artwork text or other custom text with matching font and design over a transparent background for use during CD/Vinyl printing if required.


CD/DOWNLOAD/STREAMING COVER ART CODE: 434
CD/DOWNLOAD/STREAMING COVER ART CODE: 433
CD/DOWNLOAD/STREAMING COVER ART CODE: 432
CD/DOWNLOAD/STREAMING COVER ART CODE: 431
CD/DOWNLOAD/STREAMING COVER ART CODE: 429
CD/DOWNLOAD/STREAMING COVER ART CODE: 428
CD/DOWNLOAD/STREAMING COVER ART CODE: 427
CD/DOWNLOAD/STREAMING COVER ART CODE: 426
CD/DOWNLOAD/STREAMING COVER ART CODE: 425
CD/DOWNLOAD/STREAMING COVER ART CODE: 424
CD/DOWNLOAD/STREAMING COVER ART CODE: 423
CD/DOWNLOAD/STREAMING COVER ART CODE: 422
CD/DOWNLOAD/STREAMING COVER ART CODE: 421
CD/DOWNLOAD/STREAMING COVER ART CODE: 420
CD/DOWNLOAD/STREAMING COVER ART CODE: 419
CD/DOWNLOAD/STREAMING COVER ART CODE: 418
CD/DOWNLOAD/STREAMING COVER ART CODE: 417
CD/DOWNLOAD/STREAMING COVER ART CODE: 416
CD/DOWNLOAD/STREAMING COVER ART CODE: 415
CD/DOWNLOAD/STREAMING COVER ART CODE: 414
CD/DOWNLOAD/STREAMING COVER ART CODE: 413
CD/DOWNLOAD/STREAMING COVER ART CODE: 412
CD/DOWNLOAD/STREAMING COVER ART CODE: 408v2
(2 PARTS, NOT SOLD SEPARATELY)
CD/DOWNLOAD/STREAMING COVER ART CODE: 408
(2 PARTS, NOT SOLD SEPARATELY)
CD/DOWNLOAD/STREAMING COVER ART CODE: 405
CD/DOWNLOAD/STREAMING COVER ART CODE: 402
CD/DOWNLOAD/STREAMING COVER ART CODE: 382
MUSIC MP3/CD/SPOTIFY COVER ARTWORK CODE: 400